Are Your Fire Dampers Compliant?
BS 9999 requires that all dampers, regardless of type, specification or operation method are tested annually as a minimum. There are a few keys elements to testing, which can be summarised as:
Identification – finding the location of dampers in your building
Inspection – a visual check of the installation and state of repair
Testing – a physical fire damper drop test
Resetting – replacing the fire damper to it's 'ready' state
Reporting – an essential element for compliance is the maintenance of compressive records.
Speak to an expert
Speak to an expert on
020 8661 7888 or fill in your details below for a call back
---
A fire damper only prevents the spread of fire, it does not prevent the spread of cold smoke. It only activates when the link reaches its operating temperature.
We invite you to watch our on-demand webinar which walks you through the most common types of fire and smoke dampers and associated life safety equipment, including:
Intumescent air transfer dampers
Intumescent fire damper sleeves
Intumescent collars
Intumescent fire damper valves
Smoke vents
Single pivot dampers
Smoke dampers
Smoke damper control panels
Smoke damper actuators
Mechanical fire dampers
Intumescent air transfer dampers
In this webinar learn the key differences between types of fire and smoke dampers, and associated life safety products.
---
Your Guide to Fire & Smoke Damper Inspection & Testing
This guide is essential reading for all building managers and owners.
Every year over 300,000 new smoke & fire dampers are installed with a conservative estimate of over 30 million dampers already installed within buildings across the UK.
In this guide, our experts walk you through the essential information you need to:
Be clear on the role of fire and smoke dampers as part of your essential fire safety system
Meet your obligations for inspection and testing
Remedy faulty dampers and preserve the integrity of the fire compartment
Achieve compliance for your buildings.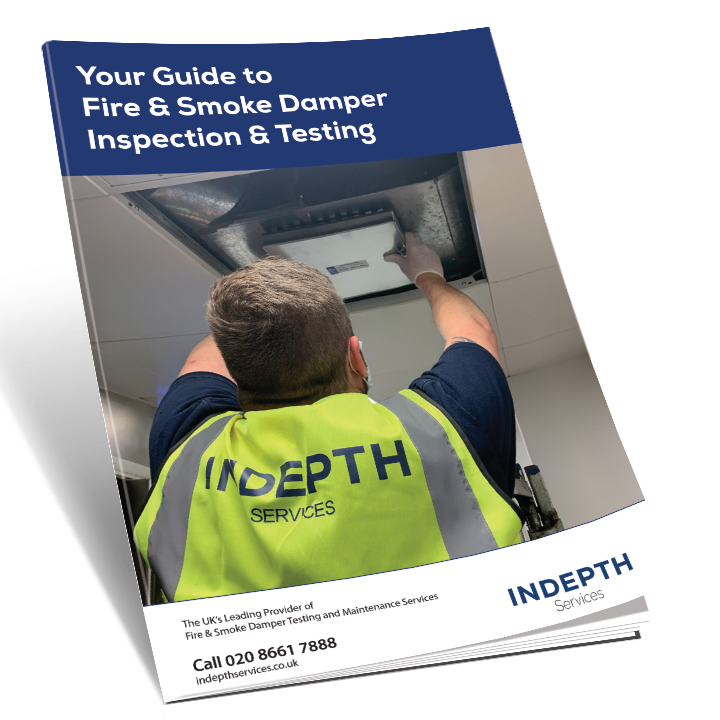 ---
What are the legal requirements for fire dampers?
A wide range of relevant laws and standards apply to the installation and testing of fire dampers, including:
The Regulatory Reform (Fire Safety) Order 2005.
The Management of Health & Safety at Work Regulations 1999.
BS9999:2017.
Grey Book – Association of Specialist Fire Protection.
BESA DW 145 – Guide to Good Practice for the Installation of Fire and Smoke Dampers.
BESA VH001 – Technical Bulletin.
The Fire Safety Order 2005:2005 No1541, requires a responsible person to be designated for all properties. The responsible person must:
Take such precautions as will ensure, so far as reasonably practicable the safety of any of their employees and;
In relation to relevant persons who are not his employees, take such general fire precautions as may reasonably be required in the circumstances of the case to ensure the premises are safe.
It is this person's responsibility to ensure a risk assessment be undertaken for all aspects of fire risk and measures put in place.
If fire dampers are in use, one of these measures will be regular fire damper inspection and testing undertaken by a competent person. This is usually required on an annual basis, or more frequently in specific conditions, such as areas with high pollutants or dust.
What are the criteria for testing fire damper performance?
The definition of the three elements of the performance criteria of dampers tested to BS EN 1366-2(1999) are integrity, insulation and leakage.
Integrity (E)
After the start of the fire test, leakage through the fire damper shall not exceed 360 m3/h/m2 (corrected at 20 degrees). The integrity around the perimeter shall continue to maintain its separating function during the test without either
Causing ignition of a cotton pad
Permitting a penetration of a gap gauge, resulting in sustained flaming
Insulation (I)
This is the time in completed minutes for which the fire damper continues to maintain its separating function during the test without developing temperatures on its unexposed surface for which either
Increases the average temperature above the initial temperature by more than 140C or
Increases at any location (including the roving thermal couple) above the initial average temperature by more than 180C
Leakage (S)
Leakage through a fire barrier shall not exceed 200m3/h/m2 (corrected at 20c). The requirement for leakage during the test need not be met after 5 mins of test duration.
Note: the result of the fire test shall be stated in terms of time elapsed to the complete minute from the commencement of the test to the failure of the damper by E.I or S whichever is the shortest.
Learn more about our fire and smoke damper inspection and testing service here.
Fire Damper Compliance
Follow Our 3 Simple Steps to Fire & Smoke Damper Compliance
Get Your Free Guide to Fire & Smoke Damper Testing & Inspection
Essential reading for facilities managers, business owners and property managers